I am learning slowly to bring my crazy pinball-machine mind back to this place… ~Anne Lamott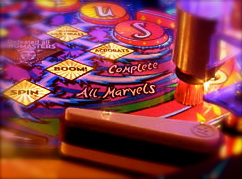 I've got scribbles everywhere that go to projects that need to be completed. There are pictures in my phone that had a perfect story to join them – but the stories are left untold. My calendar looks like a 5-year old decorated it, and I'm out of hair conditioner.
It's a beautifully awkward and messy season.
Life has served up some blessings as of late. Susie Davis is letting me feed my passion for food as a regular contributor on her wonderful blog. And I was offered the role of Director of Communications at Austin Christian Fellowship. And my amazing friend Courtney and I have gotten some good press lately for our custom noms and noshes (which means more folks hear the story of our love for the discarded). All have been answers to prayers whispered and written and cherished.
Again, it's a beautiful awkward and messy season. Though everything I'm doing is something I love, it's full of brand new and not sure.
And I feel like a little pinball.
I don't know if anyone notices, but I feel I'm bouncing around bumpers that have far more control than they need – bumpers that can either cause the world to come alive in a blaze of dazzling lights and sound and "you're a winner!" or go dark with a haunting "game over."
But yet, God knows the pitch of every bumper, every rail of this season. He knows the strength of the springs and the angle of the board. What seems brand new and not sure and out of control from my point of view is a lovely choreographed life from His. There are no accidents, no surprises, no "you really messed things up this time" moments from where He stands. There are only lights and sounds. Every moment is a purposeful one. Every move leads to perfect.