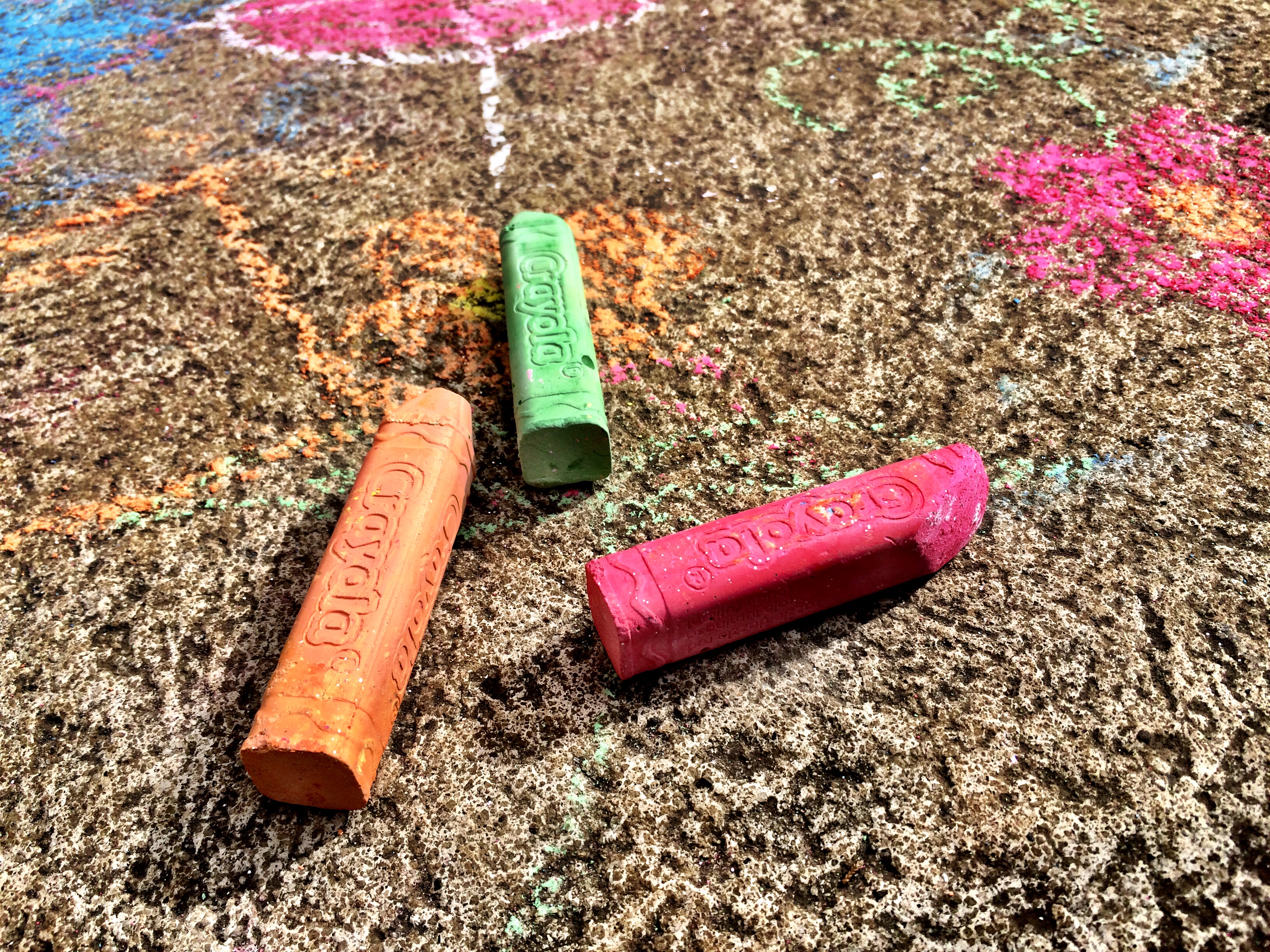 This is going to be a most unusual blog post. Not necessarily unusual in the sense that I'm sharing something totally unlike me, but unusual in the sense that I'm simply sharing an update in my life rather than weaving it into another storyline.
I honestly wish I had an adventure to wrap around this news – but then again, I think the adventure is found in the news itself. Yesterday, Orange Leaders posted an article I had written about preparing to leave your job well, featuring some good things I've learned over the years. I had written the article some time ago, but they decided this week was a perfect time to share it.
And their timing is impeccable.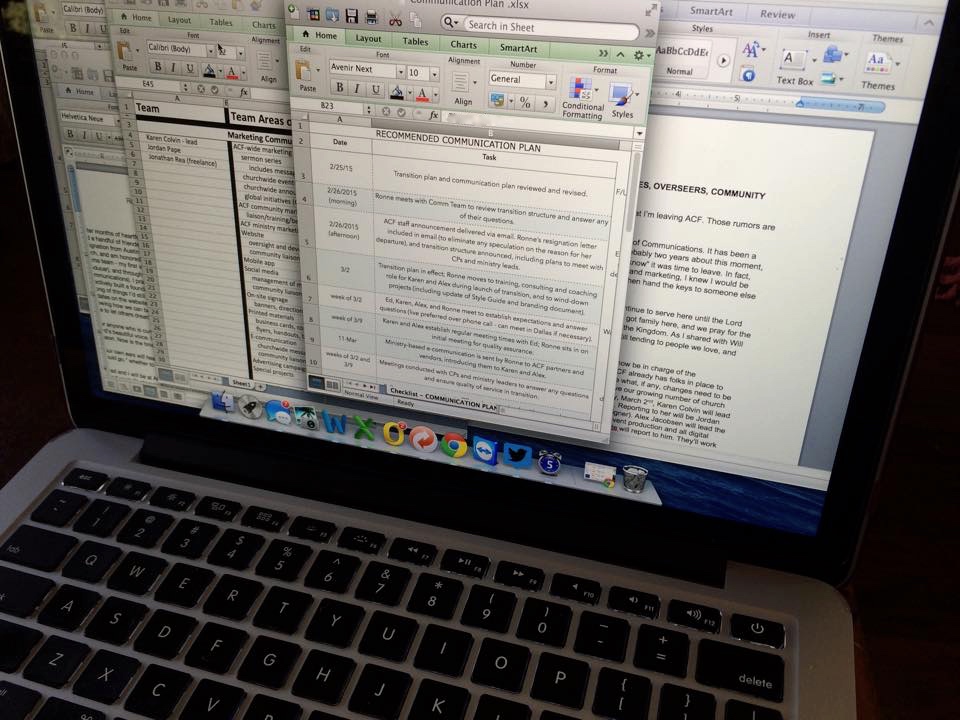 Those things I shared in the article? They're more than nice concepts. They're my real life – right now. After five years at Austin Christian Fellowship, I am saying "farewell" to church staff life. It's been good and enlightening and full of both incredible joy and frustration, and I've been honored to lead the charge in developing a brand personality and all the things that go with it, from a website to social media to cross-platform messages that reflect the heart of the church and its people well. It's been humbling to lead a team of six who run circles around me in stamina and creativity. And it's been beautiful to go from one to five church communities that each reflect a unique personality but still have at their heart the same mission (the one tattooed on the back of my neck):
know. love. serve.
Rather than piece together some nifty words to tell the why and what now, I'm going to share my resignation letter. It's likely a bit unorthodox, but if yesterday I told people how to prepare to leave, it seems fair that today I would share the words spoken – and then written – to those I entrusted with my career for a season. Perhaps the words will inspire you to dream a little bit bigger and soar a little bit higher. Or perhaps they'll inspire you to pray for my husband, since he's the one who has to put up with all my dreams. No matter what, I'd love to hear from you – what your dreams are and how I might pray for you right now. Prayer remains one of my favorite things, and praying for your life and the hope you have is a joy to me.
Thank you in advance for supporting me in this next season. And thank you in advance for buying the books when they publish (and supporting the documentary that will follow)! If you'd like to keep up with what's happening with both of them, feel free to follow my writer's page on Facebook. And my precious husband is going to be working with me to update this website a bit so I can make it easier to share progress here too.
So, here goes – the official resignation letter.
Well, it's time.
After months of heartfelt prayer and lots of late-night discussions with my husband and a handful of friends who know my heart well, I am officially submitting my resignation from Austin Christian Fellowship. I really love the people of this church so much, and am honored that I got to be part of telling her story on stage (as part of the drama team – my first volunteer opportunity), in programming weekend events (as the producer), and through branding and marketing (as the church's first Director of Communications). I pray my contributions have been worthy ones, and I pray I have effectively built a foundation that others will be able to walk on without tripping. The list is long of things I'd still like to see happen at ACF – from new ways to tell our story to updates on the website style and social media that would engage people more to showing how we can better communicate with each other and our people – but it's time to let others dream big and slay dragons and do beautiful things.
I think it's no secret that my style of leadership – and my philosophies on communication and such – may differ a bit from those of other people on staff; yet you've been gracious to allow me to lead my team and to share my heart. I greatly appreciate that, and I pray my time on staff has been beneficial in some way beyond a new logo or a few great catch-phrases.
For anyone who is curious, my cloud is not moving. I am simply being obedient to the Lord's beautiful voice. It's time to step up to the place He wants me to be in this season. Now is the time for rest, for restoration, and for soaring. 
Your own ears will hear him. Right behind you a voice will say, "This is the way you should go," whether to the right or to the left. ~Isaiah 30:21
Brad and I will be at ACF as long as the Lord desires. I've got a team of teenagers to introduce to Guatemala this summer and have a book to write about people like Flo in East Austin, I have a son who is pastoring and friends who are tending to some girls I'm cheering for as they prepare for college, and have two grandkids who are falling in love with Jesus more and more because of the care they are being provided every weekend through ACFkids. These are good things that make my heart leap.
Yes, I mentioned a book. For anyone who wants to know what I'll be doing with my time, I'll still be helping faith-based organizations with marketing, still writing leadership articles, still doing advocacy journalism, still pouring my heart out for the cause of the orphan and the vulnerable. I'll be a wife, mom, grandmom, friend, hand to hold, (bony) shoulder to cry on should anyone ever need a misfit gypsy renegade's ear. I'll be doing #kitchentherapy. I'll be ready with bags packed for whatever adventures the Lord has for me. And I'm co-authoring a collective on beauty in common places, and writing a book about women who are committed to rebuilding broken places and broken lives. It's my hope that the proceeds from the book (and hopefully a documentary) will help build a college for the deaf in the West Indies.
I'll leave you with this. Something I learned a long time ago about leadership. You might like it. It's something I believe in wholeheartedly because I've seen it in action.
(input + involvement = buy-in) + ownership X accountability = motivation to succeed
And I'll include this as well. 
Jesus knew that the Father had put him in complete charge of everything, that he came from God and was on his way back to God. So he got up from the supper table, set aside his robe, and put on an apron. Then he poured water into a basin and began to wash the feet of the disciples, drying them with his apron. ~John 13:3-6
There you have it. The two things that govern my leadership style (in case anyone ever asks). 
I'm praying for ACF. I'm praying for the hearts of our leaders. I'm praying for the precious Bride of Christ who is in their keeping. And I am thankful for a God who is a glorious God – who molds us and shapes us and promises us in Jeremiah 30:24, "The Lord will not turn back until He fully accomplishes the purposes of His heart." 
Here's to new adventures.
 Ronne