The words were meant with such affirmation and encouragement. "You are not like most women – you have truly overcome." I smiled and shifted awkwardly in my seat as I heard the word. Memoir. Mind racing to find the moments where the story has been told in pieces – in small sanctuaries or living rooms or perhaps on paper – I now wondered if my story was worth telling at all. Memoir. The word sounded menacing and invasive to this woman who confidently says she is an open book filled with redemptive pages.
In the stillness of reflection, I realized why.
Shame still lurks menacingly, like a shadow detached from its source. The same shame that caused a young girl who was told, "men are just that way" to tuck away abuse to protect her family name, the same shame that caused a woman to wonder if the words, "you are causing this because you're not submissive,"  were the real truth of what women deserved simply because they existed. Shame that has no substance when illuminated by the light of truth, but is still heavy enough to cause me to peek back to see if it's close enough to do harm.
Shame I thought was gone completely.
I lingered for a while in Psalm 25, and this prayer emerged from the words on the page. Today, I am repeating over and over again, "My life will not bear the word 'shame.'" I will keep walking, and I will not wander back into the shadows of fear. I will truly overcome.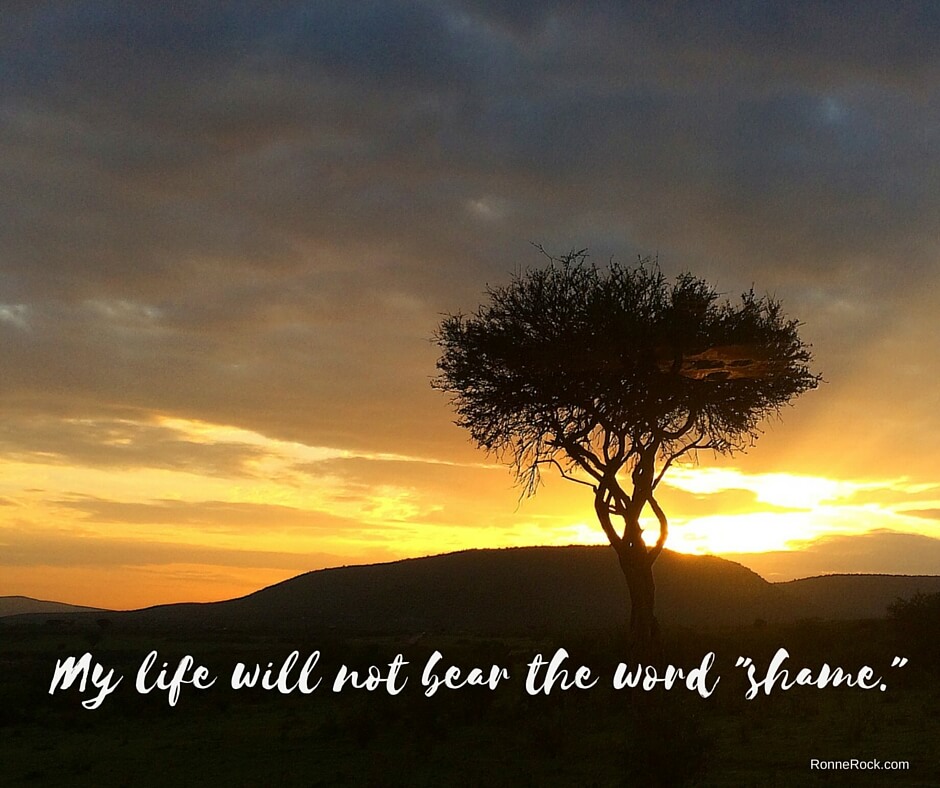 ---
I love You, sweet Lord and I am holding on to You right now. My accusers will stand at bay and watch, silenced by Your might. My life will not bear the word "shame." You will make certain of that.
I want to listen to You right now, Lord. I want to hear Your voice and follow ever-so-closely in Your footsteps, feeling the dust from Your robe on my face and feet. I'm here, and I don't want to wander.
Please don't let me wander.
Would You teach me how to walk well, to run well, to be still and simply see You for all that You are? Will You let me taste steadfast love and unending faithfulness? You know me, You have me. All of me. And the parts of me that yet find themselves raging against truth, the pieces of me that are more petulant child or fearful slave than they are humble daughter of the king. But there You are, seeing me as heir and as offspring. There You are, offering Your hand and a place to sit at the table as You speak of promises made and kept throughout eternity. There You are, holding me.
You know my heart, Lord. You know the moments when I feel so very by myself, when my walking ceases and I stand in the shadows. Please now, hold me even closer. Remind me that You hold me and not the hurt I've carried. You are ever kind, and the dust from Your robe is like snow that falls gently and washes clean all it touches so that spring may come with new life. I breathe in that dust now as You walk. Accusers will stand at bay and watch. My life will not bear the word "shame." You will make certain of that.
You will not let me wander.
---
I want you to say with me, "My life will not bear the word 'shame.'" If the shadow of shame is lurking right now, will you let me know how I may pray for you?