I pray that no one ever looks at my life and says, 'That girl – you know, she always played it safe.'
I wrote those words two years ago, after returning from India where I met  Aunty and Lucy, two women who turned my faith on its head with their boldly quiet and bravely effectual love for Jesus. That love has filled them and marked them and set them apart.
I don't want to be a safe girl. I want to bear the marks of a girl who isn't afraid to gather and pour.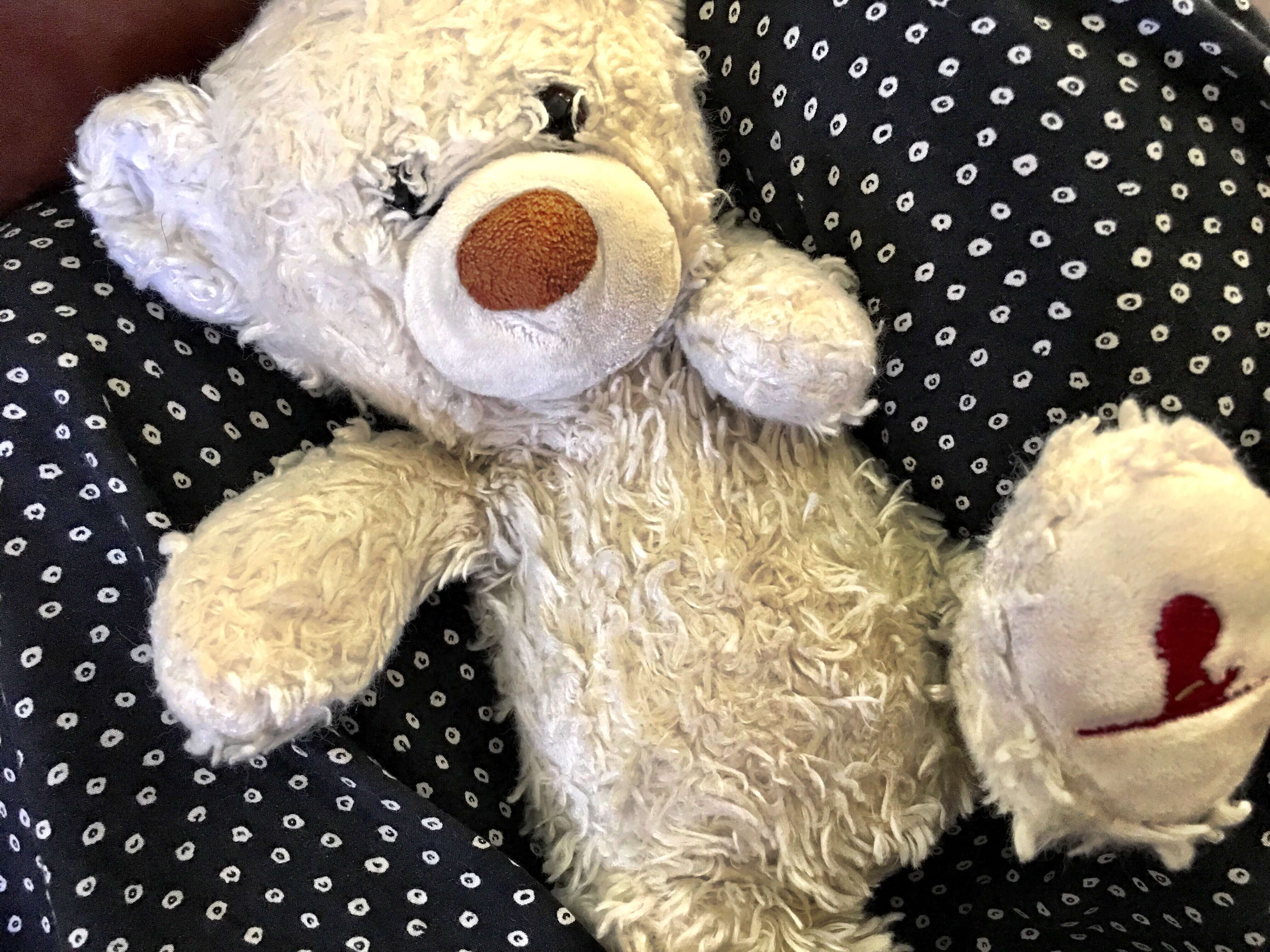 TomBear came to live with Tyler-girl a few years ago. He's from St. Jude, and his story honors a kid who kept the faith and brought hope to other kids (his given name is Thompson). Now, each year sweet Sarah makes sure Tyler and her brother get new stuffed animals from St. Jude. Those animals have sleepovers and playtime. But TomBear remains. He's been washed so many times that his fuzz is no longer fuzzy. He's been swaddled, he's worn spilled juice, he's comforted tears and watched countless dance parties. TomBear isn't afraid to gather and pour. He wears the marks of a love well-lived. He doesn't play it safe at all. His love emboldens Tyler. She may be only four, but she's not playing it safe either. She laughs and says, "I got Jesus in my heart, GiGi." That's not for those who want to play it safe, for sure.
Today, I spent time in John 12. It's one of my favorite stories because of the words "the fragrance filled the room." There's nothing I like more than when fragrance permeates the air – like the angel's share in the aging room of the Jack Daniels' distillery or warm vanilla sugar that greets you at the San Martin bakeries in Guatemala. But today, I spent time with Mary.
Mary didn't play it safe once before, when she and her sister invited Jesus to a family dinner. Martha loved to serve, and adored the energy around the table. Her brother, Lazarus, was a dear friend of Jesus – a friend He loved back to life – so the evening was especially rich. That night, Mary asked to be served rather than to serve. She sat at Jesus' feet to listen, rather than by His side to speak. Hearing His voice was more important to her than making sure He heard hers. Martha was distraught by her sister's brazen posture. Jesus smiled and told her it was OK to be unsafe.
This night, the sisters were serving another meal. Martha once again gathered and poured around the table. And Mary? She did the unthinkable. She gathered and poured too – taking the finest and most precious of oils and lavishing Jesus' feet with them. She shattered alabaster and the dirt below His feet soaked in the fragrance of His future. She poured. And then she tended. And then she used her own hair to soak in the symbolism of the moment. As skeptics sneered and sojourners watched in wonder, she said in the silence, "I am with You, even to the death. I am with You in the now and in the next. Your destiny is mine." Her hands yielding to His service. Her tears mixing with the oil. His eternity marking hers. Inescapable fragrance, indescribable moment, unbreakable love.
What does the Lord desire? He desires our gaze, our focus, the affection of our hearts that prompt our feet and hands to move in response. He celebrates a love that looks a whole lot like Mary and Tyler – and TomBear. Today, I'm praying for that love to be our love. Today, I'm praying for us to be marked with a love well-lived. Today, I'm praying we don't play it safe.
---
(The reading from John 12 is part of the 21-Day Spiritual Cleanse, a really great study created by my friend Matt and his friend Kevin. Give it a try – it's worthy of your time.)