2018 has been around for a bit now. Resolutions made in January have likely died from starvation, based upon all the research that's out there about goal-setting and such. Folks in my town have already moved onto discussions about where the best wildflowers will be this spring and what to do with the kids over the summer and how to fit into last year's swimsuit.
And here I am, just now sharing my word of the year.
Last year, the word was "Jubilee," though few would have ever known it. I think I only shared it once as part of a caption on a picture and a few times as a #MyJubilee hashtag. It's such a powerful word – at once meaning both celebration and restoration in full – and I went into the year with big plans for it. I had soared and been bold, so 2017 destined to be the big year of finishing things and changing things and beginning new things. And it ended up being just that, though my carefully pre-planned list and reality didn't speak the same language.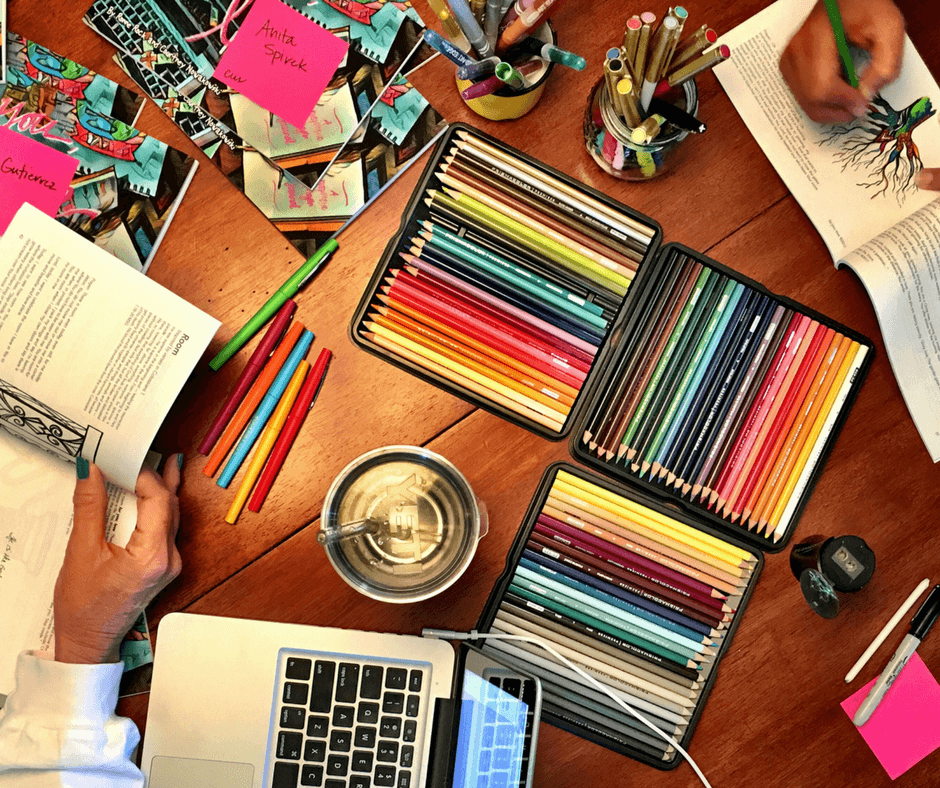 At the end of the year, there were books to be celebrated (though neither of them was the one I thought I would finish), and there were new things to enjoy (though the biggest new thing – my little family living in Arizona – introduced me to new depths of grief's friendship). Most of the Jubilee moments centered around a deepening love for the Lord and His motley mess of humanity. Church became a delightful place again as my husband and I moved toward Anglicanism, the table became a more sacred place for gatherings and conversations with family and with strangers, new destinations opened up stories about my heritage and DNA, and new places in my heart were shattered and then knit back together again with threads of raw, gritty, hope.
It was walking the streets of Mathare Slum in Kenya last fall where the 2018 words began rising. Yes, there are words this year – three phrases that feel more like directives than they do themes. I've written about the women I've met around the world who have taught me so much about grace-filled leadership, and it was in contemplating their relentless passion in the presence of the thick underbelly of oppression that the three phrases emerged.
Be RESOLUTE.
Stay SMALL.
FILL the space you've been given.
Yes, I'm sharing the words here finally. But I'll be honest – I've already written about them. In two "make 2018 a good year" leadership articles written for QARA (a digital magazine for 20-somethings), I revealed them all, though those readers would have no idea they were also my personal battle cry.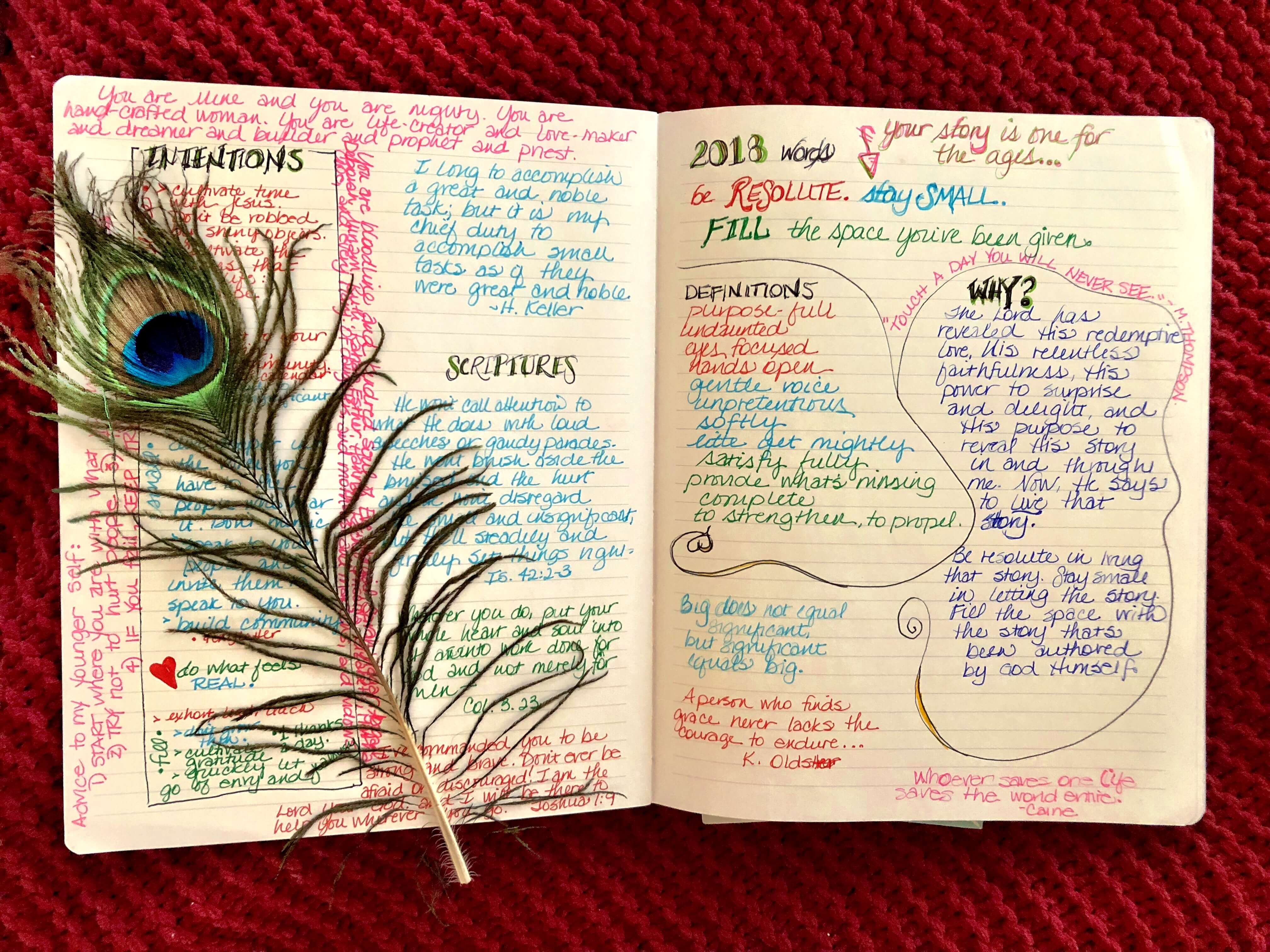 I spent days doodling in my journal about the words, and one day I hope those doodles will become artwork for my office. But more than anything, I'm hoping the doodles will emboss my heart and move my hands and legs to action.
Because words don't mean much unless they move us.
So, here are the words, the directives, the encouragements this girl's life is trying to live out now. I won't lie – they're not easy. The world demands our attention, and it loves to remind us that we're not big enough or bold enough or doing enough.
But that's a lie. The women have taught me that we're enough.
The first is this: be RESOLUTE.
This year, rather than making a list of things I want to do better or do differently, I want to be  resolute in doing the things that matter in my career, relationships, ministry, and life.
What does it mean to be resolute? It's easy to define the word as "determined," and yes, there are times when sheer determination is necessary. But being resolute isn't just about shoulder-to-the-wheel moxie. It's about remaining faithful to the things that matter.
THIS YEAR, I WILL BE STEADFAST.
The women I know who lead well do their best to keep the main thing the main thing. I'm praying to honor the time I've been given personally and professionally, and be faithful to do good with my hands each day.
THIS YEAR, I WILL BE UNDAUNTED.
One of the greatest qualities I have learned from women leaders around the world is to not allow discouragement to take root. There will be hardships, difficult decisions, and seasons where things are simply mundane. This year, I've made a commitment to look at every season as an opportunity to learn and grow and find value in the lessons, and I've rallied the support of a mentor or two to help me not lose focus.
THIS YEAR, I WILL LOOSEN.
Yes, one of the definitions of "resolute" is to loosen. And the women who lead give themselves freedom to explore new ideas, ponder new dreams, and invite new ways of thinking and problem-solving. I'm doing my best to keep my hands (and heart) open so that other hearts and hands may be open too.
The second is this: Stay SMALL.
I shared the story of my friend, Flo, over at QARA. Her life isn't an easy one. In fact, she's lived enough hard for a million lives. But she is resolute. And goodness, she knows that big doesn't equal significant – but significant always equals big. She shares the same heart as the rest of the women who have taught me.
The statistics are pretty dismal when it comes to global fame. Only about 1 in a million people in the world will rise to that status. The rest of us might experience some form of notoriety at some fleeting moment in our lives – but few of us will ever know what it's like to be known by everyone. But do we really need to be big to be significant, to be a change-agent, to influence society or culture or people groups?
In Texas, hundreds of kids have received college educations and established successful careers because of the work of Flo. She advocates tirelessly on behalf of the disenfranchised, donates daily to the poor, and has been invited to sit on boards for local charities because of her road-tested wisdom. She's quietly cleaned up low-income neighborhoods, working to have crack houses shut down so kids will be safer. Awards are displayed on the shelves of her library, though she thinks it's odd that she would be honored for her work. "This is just what God has put on my heart to do," she says. "and I'll keep working until the day I take my last breath."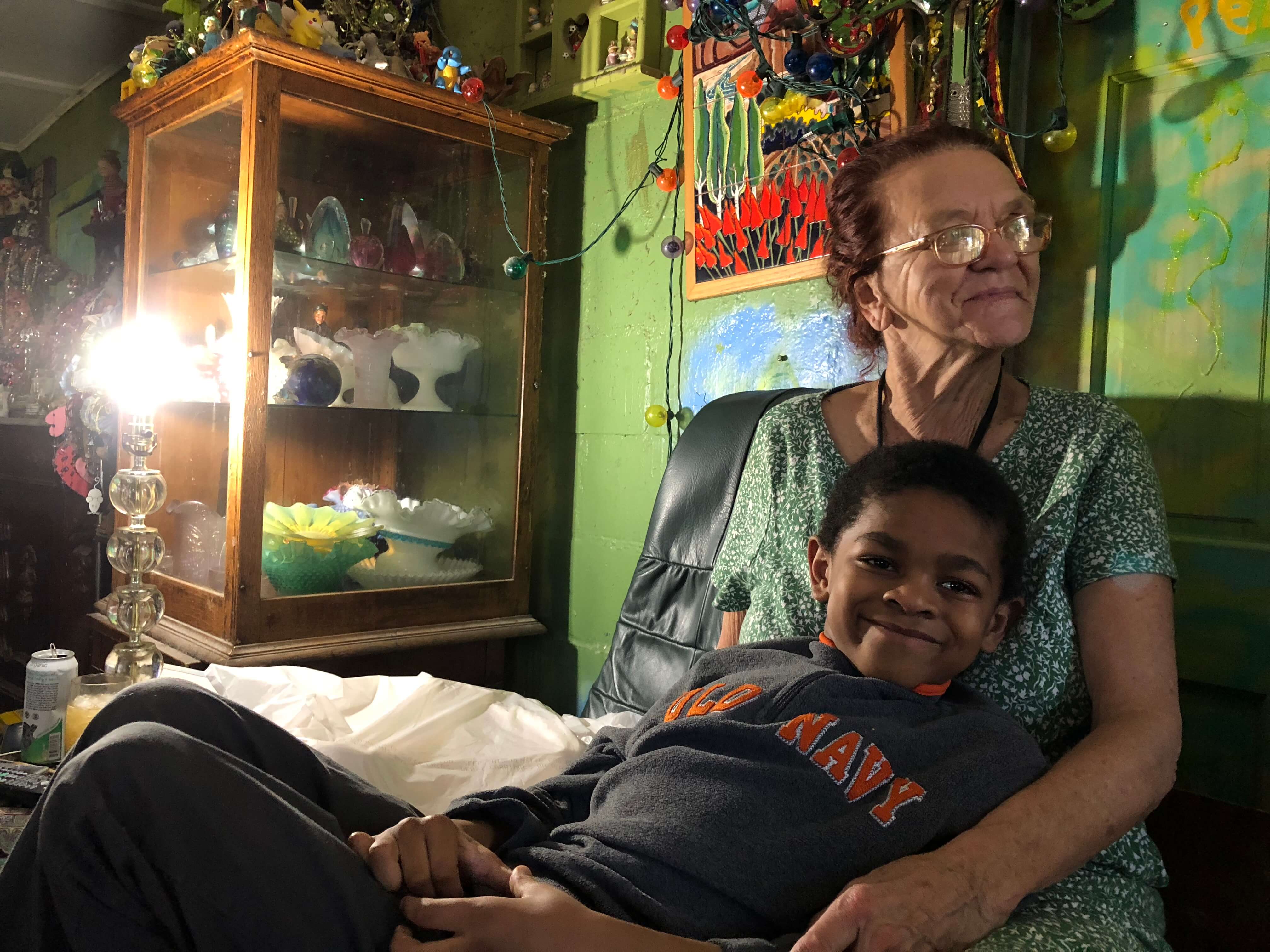 The thing is, if you want to get to know Flo, you'll have to drive to her home to meet her. She doesn't own a car. The neighborhood she's helped clean up is the one she moved into decades ago – the only place she could afford to live as a single mom. She doesn't have a degree or hold a steady job, and most of the items she uses to raise funds and care for the people she serves are things others might easily toss in the trash. "People throw away perfectly good things, just because they're not fancy enough or not new enough. They'll even throw away brand new things because they got a fancier new thing," she shares. "But God knows how to take all things and make them beautiful for someone. He's just waiting for us to let Him show us how to use them right."
Staying small for me means tending to those who have been placed in my path. It means more coffee in real life, more conversations with the one instead of presentations in front of the many, more #kitchentherapy with folks who have names and faces and stories. It means being OK with not being all things to all people at all times. Staying small even means tending to this blog more – because it gives me space to tend to the things God is teaching me.
Flo also taught me about the third thing:
FILL the space you've been given.
The last time we sat in her living room and talked, she said, "I could have moved from this place a long time ago. I've had people promise me all sorts of great things or tell me that I could make something more of myself and never have to worry again about where the money will come from to care for the kids and pay the bills. But this is where I'm most useful."
Rather than filling her time with "if only" wishes, Flo lives her life fully in the midst of her circumstances. "There's a purpose in us being in this place for this time," she says. "If I am going to trust God with my life, that means I trust Him with where my life is right now. And it means I make sure I'm doing the most with this life right now."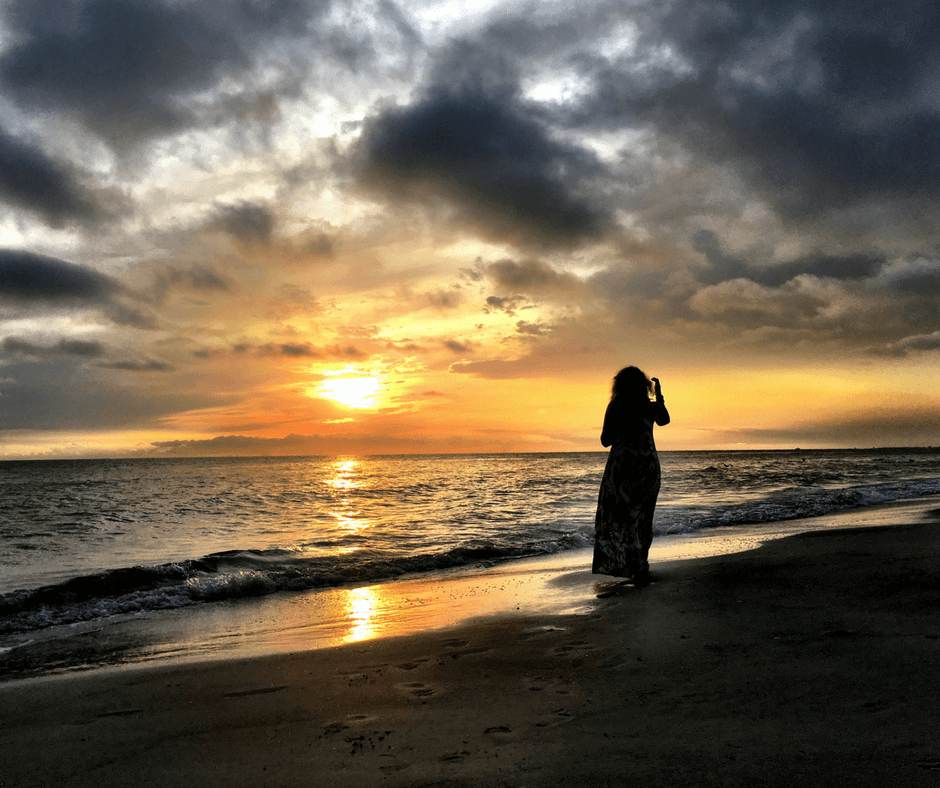 Everything around me screams, "Just think of how much MORE you could do if you would just build your platform and leverage your expertise. You could make a REAL impact on this world, you know." But Flo has demonstrated what real impact looks like.  The women who have invested in me agree with her – the women who are working in remote villages and slums and impoverished neighborhoods, the women who aren't trying to impress folks with their position or power, the women who are relentless in their determination to care for those around them. With them as my example, I am learning to fill the space I'm in.
Be RESOLUTE.
Stay SMALL.
FILL the space you've been given.
Those three things are my word(s) for the year. I have learned, and I am learning, to rest in them. I don't think they'll disappear when the year is complete. I've got a lot of learning left in this life. Did I mention that this is scary? I'm a forgetful soul who isn't always faithful when the days get long. I'm an impatient soul who wants to see results before I've put in the work. I'm a needy soul who likes to be affirmed. I'm a curious soul who comes dangerously close to running off cliffs as I chase illusions.
Yes, these three things. My soul needs these three things: resolute, small, and filled.
---
What does your soul need this year? What are your words – or what should they be? What does being resolute, staying small, and filling the space you're in mean to you? I'd love to know. And I'd love to pray for you too!
And by the way, if you received this post in your in-box because you subscribe to my website – you'll be receiving your first #LittleLoveLetter from me soon. I talked about it a bit here in my "This is what I'm doing in 2018" post.  Thanks for being here!