She's the new girl. And it's a brand new world for her, being in such a safe place. You can see it in her eyes as they dart from face to face. She wants to trust, but she's just not sure yet if this will last.Her name is Pamela, and she's only lived at Mi Especial Tesoro a few days.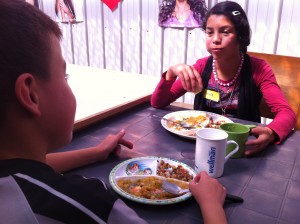 I first noticed her on Thursday as she ate a quiet lunch with little Pablo rather than at the big table with the girls. She had the most shy of smiles. And she was sporting a black eye – a badge of courage from defending the honor of a boy at school who was being bullied.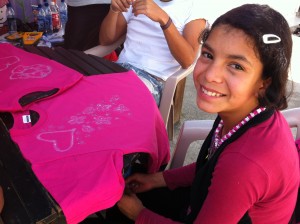 We designed t-shirts with the girls – and she allowed our translator Pablo to help her with the hearts and butterflies. We made cookies – and she watched, carefully breathing in every moment. And we made papercraft decorations. It was here she seemed to find greatest comfort.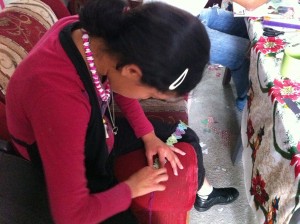 She made a garland of butterflies, her hands meticulously threading each one together with embroidery thread and needle. Long after the other young ladies had moved on to other projects, she kept working, rarely looking up and never asking for help. Our team members kept making garlands as encouragement.  As we departed on that first day, she hesitantly hugged us, that shy smile again showing itself.
On Friday, the shy smile grew. She sat at the big table with the girls for the first time, taking in piece after piece of conversation. She watched as our team set up activities for a special Valentine's Day party, her curiosity piqued by the costumes for the photo booth, the colorful face paints, and the coffee filters and watercolors that would be transformed into beautiful flowers. And something wonderful happened when I turned on the music – some old '80s tunes.
She sang.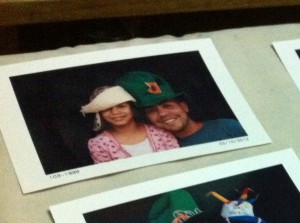 She didn't know the English words to tunes like "Girls Just Wanna Have Fun," but she knew every beat of the music and every melody line. We sang together, song after song. And that smile became laughter. We put on hats and grabbed flowers to take fun photos. She then asked Pablo to take pictures with her, holding his hand as they stood together.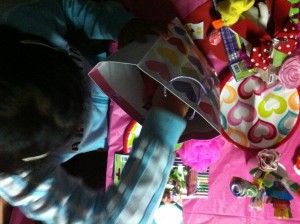 The day ended as we celebrated with cake and gifts. She carefully ate her piece of birthday cake, a little overwhelmed by all the singing and prayer. But that smile remained. We held hands and she showed off the bounty in her giftbag – a beanie baby pup, some sweet-smelling lotion, a small mirror, candy…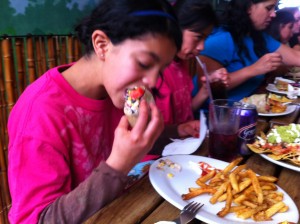 On Saturday, she and her new Tesoro family joined our team for lunch and ministry in Antigua. She wore the beautiful pink t-shirt she and Pablo had designed, and she sat in wonder as she was served new things like burritos and nachos. She loved Grapette and french fries, and laughed when Cliff spilled orange drink on his shorts. And when we walked to Cabacitas de Algodon (a home for the elderly), her hands held  Pablo and me tightly.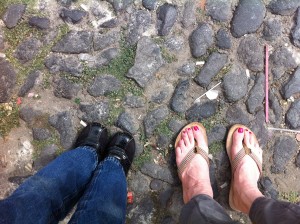 We passed a group of disheveled women and children waiting patiently as food cooked on an open fire in an alleyway was portioned out. She softly said, "I used to walk these streets with my mom."
Before Tesoro, Pamela was in one government orphanage and then another – institutions that offered little care and even less hope. But she remembered a time before the orphanages when she was with her mother. She remembered a time when there was someone with a name and a face, someone who may not have been able to care for her but was considered family.
She gripped our hands a little tighter as we continued our journey, watching the other pink t-shirt wearing girls holding hands with members of the team. She looked up at me and smiled that shy smile again.
Pamela has a family again at Mi Especial Tesoro.
As we walked, a song resonated in my heart. Yes, Pamela, you can trust and love again.
This chest is full of memories

Of gold and silver tears

I'll give you more to own than All of this

And I'll give you more than years

For you were once a child of innocence

And I see you just the same

Your burdens couldn't win or Lose a thing

Oh, I'd tell you once again

But you're always on the run

Slow your breath down

Just take it slow

Find your heart now, oh

You can trust and love again

Slow your breath down, just take it slow

Find your smile now, oh

You can trust and love again

If you leave I'll still be close to you

When all your fears rain down

I'll take you back a thousand times again

I'll take you as my own

I would sing you songs of innocence

'Til the light of morning comes

'Til the rays of gold and honey cover you

In the sweetness of the dawn

But you're always on the run

You're not alone

You're now a part of me

You feel the cure

I'll feel the toil it brought you
If you'd like to know more about Mi Especial Tesoro and ministry in Guatemala, reach out to
Orphan Outreach.